Legendary JRPG Final Fantasy VII celebrates a quarter century!
When Final Fantasy VII for the original PlayStation hit shelves 25 years ago, it broke sales records in Japan. The highly anticipated Japanese Role Playing Game sold 2 million copies in just two days. It also received universal acclaim from critics and fans alike. Upon release in America eight months later, the game helped popularize Japanese RPGs in the West. There had already been big hits in the genre thanks to earlier entries in the FF series as well as Pokémon, but FFVII was influential in keeping the genre's forward momentum towards the mainstream.
The beloved characters like Cloud, Sephiroth, and Aerith became household names for gamers. And many still have the tragic moments of the story imprinted in their minds. The success of the game lead to many spin-offs, including Before Crisis: Final Fantasy VII, FFVII: Crisis Core, Dirge of Cerberus, and others. There was even a film called Final Fantasy VII: Advent Children that came out in 2005.
After many years of fans clamoring for a complete remake and Square Enix listening, Final Fantasy VII REMAKE was released for PlayStation 4 on April 10, 2020. The remake received critical praise, with some considering it superior to the original.
Character Designer and Final Fantasy VII REMAKE Creative Director Tetsuya Nomura also thanked fans for their support of the original as well as the remake. He also teased the upcoming Final Fantasy VII The First Soldier and Ever Crisis. And the team is undoubtedly hard at work on the Remake Part 2. Us FFVII fans have even more to look forward to in the years to come!
C

reators thanks the Fans!

FFVII's Game Director Yoshinori Kitasereleased a statement thanking fans for their enduring support for the game. He also commented that he "had always thought of Final Fantasy VII as a recent game" but it is now considered one of the "early entries" in the series.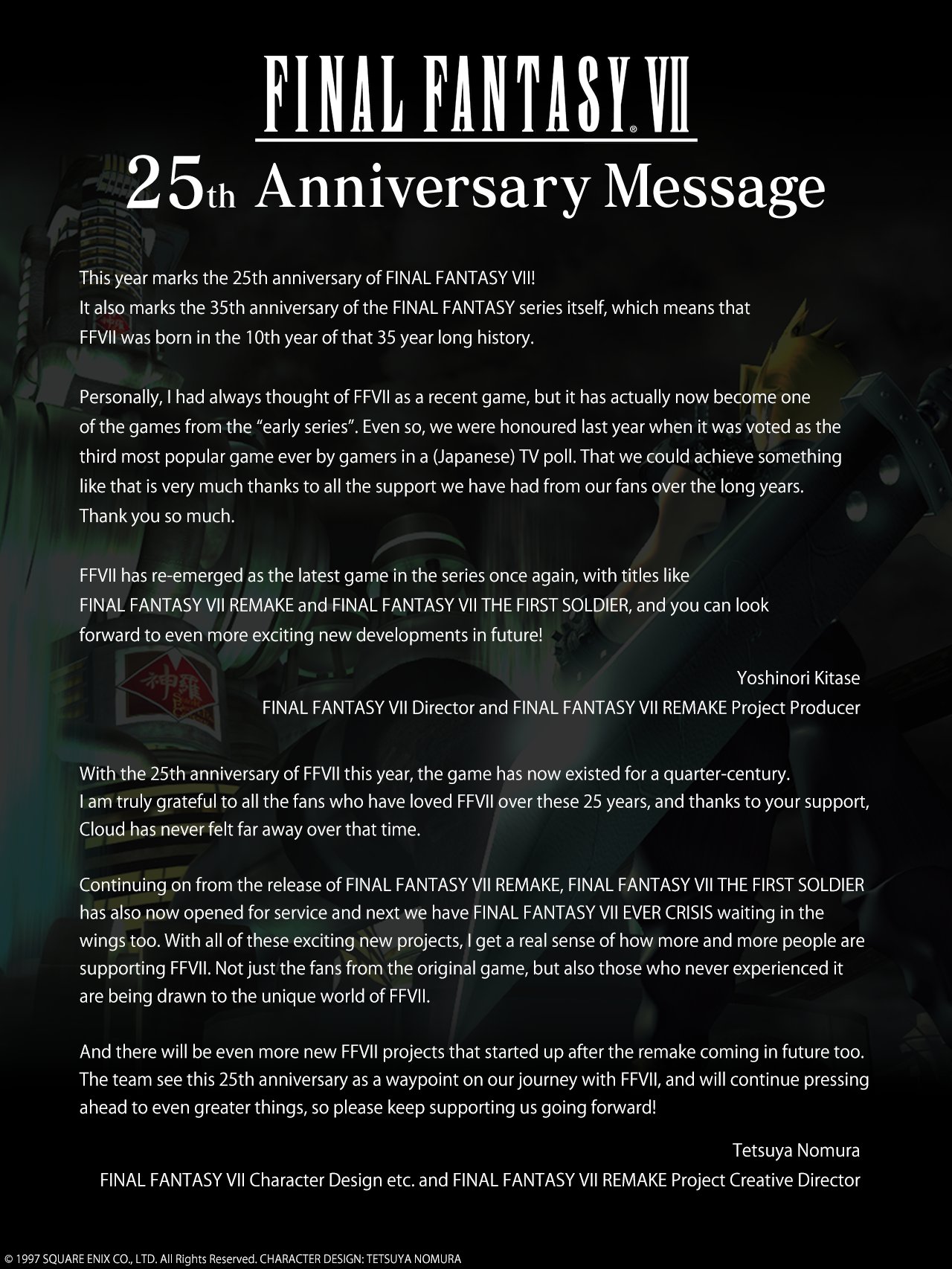 Read more Video Game News on Nerdtropolis.
Subscribe to our Channel.